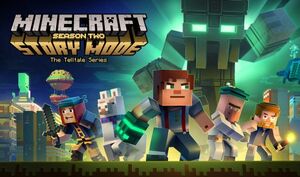 Season 2 is a video game developed by Telltale Games and is the sequel to the first season game, specifically the Adventure Pass.
Plot
Now that Jesse and the gang have vanquished the Wither Storm, saved the world, and become totally super famous heroes, life has gotten a bit more... complicated. With more responsibilities and less time for adventure, old friendships have started to fade -- at least until Jesse's hand gets stuck in a creepy gauntlet that belongs to an ancient underwater temple. Together with old pals and new comrades alike, Jesse embarks on a brand new journey filled with tough choices, good times, and at least one temperamental llama.[1]
Platforms
Android
iOS
PlayStation 4
Xbox One
Xbox 360
PC
macOS
Windows 10
Nintendo Switch
MacBook Air
Season Pass
For more information regarding the Season Pass, go to Season Pass (Season Two).
Available Language Dubs
English
Spanish
German
French
Japanese
Episodes
Characters
Main Characters
Antagonists & Bosses
Romeo (Main Antagonist, Formerly)
Icy Golem (Determinant)
Icy Spiders (Determinant)
Secondary Characters
Minor Characters
Lord von Thunderpork VI 
Esteban 
Smushy Cutecheeks 
Vos (Mentioned)
Sammy (Mentioned)
Fred (Portrait, Hologram, Mentioned)
Cassie Rose (mentioned)
Aiden (mentioned)
Gabriel the Warrior (mentioned)
Ellegaard the Redstone Engineer (mentioned)
Magnus the Rogue (mentioned)
Soren the Architect (mentioned)
Deaths
Sammy (Confirmed Fate)
Vos (Confirmed Fate)
Fred (Confirmed Fate)
Xara (Determinant)
Lord von Thunderpork VI 
Esteban 
Smushy Cutecheeks 
Romeo (Determinant)
Trivia
According to Eric Stirpe, the second season takes place five to seven years after the conclusion of Season 1 (Episode 8). [2]
No matter who you choose to leave behind in Xara's cell, as long as you give Xara her bed, and make friends with Stella, the player has an option of keeping Lluna as a pet.
Although there had been rumors about a second season before, the first piece of evidence was a classification of "Hero in Residence", the first episode of Season 2. [3]
Season 2 includes a "Crowd-Play" feature, allowing others to vote on dialogue choices for the player using a streaming service.
This is the last season to feature Axel, Olivia, Petra, and Jesse (determinant) as members of the new Order of the Stone.

If the player chooses to leave with Petra, then the team may just be Jack, Radar, Nurm, and Lukas.
If the player chooses to stay in Beacontown, then Jesse may hold his/her position as the leader.

Neither Dan or Lizzie appear depending on your choices based on who you accused whatsoever in A Portal to Mystery.
Unlike Season 1, Season 2 is not available on the PlayStation 3 or Wii U.
When E3 was happening on the Twitch streaming service, as Jesse is talking to Stampy Cat and Stacy Plays, Nell can be seen dancing in the background.
Season 2 intentionally has milder language than the first season, so as to be suitable for younger players.
Several details about the characters in Season 2 were revealed before its release, largely through social media posts.

Radar was confirmed to be Jesse's assistant by Eric Stirpe in an interview at E3 2017.
The name of Lluna the llama was revealed by Eric Stirpe in a Tumblr post. [4]
In another Tumblr post, Eric Stirpe confirmed that Axel, Olivia, Lukas, and Ivor would be reappearing in Season 2 (albeit some of them with smaller roles). [5]
When asked about Jesse's "different clothes" in a teaser screenshot, Eric Stirpe revealed that Season 2 has new customization options for Jesse. [6]
Mojang and Telltale declared that this was the last season of Minecraft: Story Mode. Henceforth there will be no more seasons.
Galleries
Box Art
Key Art
Screenshots
Concept Art
Trailers
References