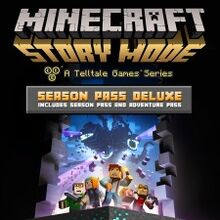 The Season Pass Deluxe is a purchasable pass which allows the Player to access almost all of the episodes in Minecraft: Story Mode, "Assembly Required" through "A Journey's End?" (excluding "The Order of the Stone").
Episodes
Season Pass
Episode 1: "The Order of the Stone" (Released October 13th, 2017)
Episode 2: "Assembly Required" (Released October 27th, 2015)
Episode 3: "The Last Place You Look" (Released November 24th, 2015)
Episode 4: "A Block and a Hard Place" (Released December 22nd, 2015)
Episode 5: "Order Up!" (Released March 29th, 2015)
Adventure Pass
Episode 6: "A Portal to Mystery" (Released June 7th, 2016)
Episode 7: "Access Denied" (Released July 26th, 2016)
Episode 8: "A Journey's End?" (Released September 13th, 2016)
Characters
See Character List.
Trivia
This version is not available as a disc, it can only be downloaded.
Community content is available under
CC-BY-SA
unless otherwise noted.