"Jailhouse Block" is the third episode of Minecraft: Story Mode Season Two.
Plot
Having bested The Admin's icy obstacles, Jesse and the gang are rewarded with a one-way trip to The Sunshine Institute, a nigh, inescapable prison buried at the bottom of the world and filled with all manner of miscreants. In order to make it back home, Jesse has to find a way to break out, even if that means employing a few desperate measures...
Synopsis
For the plot, click here.
Jesse and the gang must brave a dangerous prison and its even more dangerous inmates to reach the secret at the prison's heart... But when the enemy tries to recruit Jesse's friends, will they be able to resist the call?
Characters
Deaths
The Warden
Giant Ghast
Fred (Confirmed Death)
Choices
Please note: some of these percentages and statistics may be out of date.
Radar was being tortured as leverage... Did you agree to work for the Warden?
56.6% of players agreed to work for the Warden.
43.4% refused to work for the Warden.
Geoff the Mooshroom was not allowed to stay... Did you shear him?
55.8% of players refused the Warden's order.
44.2% of players sheared Geoff.
You had to convince Stella to help you... How did she respond to your request?
73.7% of players has Stella on the inside of Romeo's circle of trust.
26.3% of players didn't have Stella on the inside of Romeo's circle of trust.
Xara left you in her booby-trapped cell... Who did you leave behind?
53.8% of players left Lluna behind.
46.2% of players left Nurm behind.
Xara ran ahead during the escape... Did you stick together?
87.2% of players stayed behind to help Xara.
12.8% of players left Xara to fight the monsters herself.
Trivia
The title is a pun of Elvis Presley's song, Jailhouse Rock.
Although being in "Giant Consequences", Lukas' voice actor, Scott Porter, could not be in "Jailhouse Block", due to his becoming a father and not having enough time to record his dialogue.
Key Art & Trailer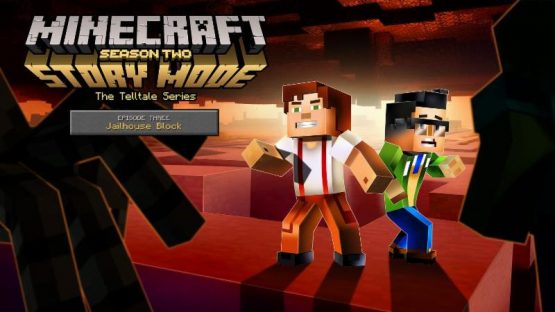 References